One female black and very, very dark gray striped (look black all over) with one white spot (that's all the light color for them) one year old available for adoption immediately. Very sweet and loving.
Litter trained- very good at using the litter box.
Flea free.
Need shots and to be fixed when the time comes. Born March 14th of 2008.
Need home soon, or please help with their care, shots, or fixing by contacting us or PayPal to Power House Rescue at powerhouserescue @cheerful.com, no spaces.
Please, help if you can. I provide receipts upon request.
Rascal found a forever home and has since passed. She was extremely happy and her person is sorry to have lost her soulmate dog!! I miss her, too, and am glad she graced my life for three years.
Rascal
has affection for everyone. About ten years old. Plays with toys & dogs & people. Likes to sit next to you, nap with you (she will stay on the bed or on the floor beside the bed)- she must have these. Doesn't jump on people. Well potty-trained. Likes to visit neighbors, play in the yard but due to being left in a back yard almost all the time by herself for five years, sometimes having cover, sometimes not, & possible on the streets for over three years before that- well, she is afraid of storms but she is getting very good at being brave. She weathered Hurricanes Charley, Frances, and Jeanne well. Does not like to be left alone but
is
a great dog if left alone in the house. Bullied by a dalmation often for a year but still likes all other dogs and even will live with cats.
Rascal's beautiful face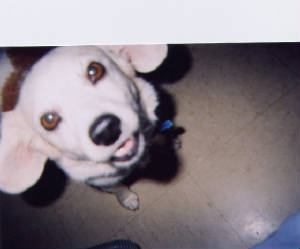 What ya doin' foster mama? Where's your face?